VeeFriends – What are they?
VeeFriends is an NFT collection of 10,255 assets that were created by social media influencer, Gary Vaynerchuk. There are three basic utilities to these assets, that break down further depending on rarity. To design the project, GaryVee drew 268 different images including Patient Panda, Ambitious Angel, Unwavering Urchin, and more.
The non-fungible tokens were released in May 2021 in a Dutch auction minting process. The assets were released in sets over a five-day period of time, at 5:55 PM EST. In all, 9,400 admission tokens, 555 gift goats, and 300 access tokens were sold.
The utility of these assets are as follows:
Admission Tokens – Admission tokens are collectible assets that can be bought and sold on NFT marketplaces. There are different styles of tokens with varying levels of rarity. Holders will also be able to attend VeeCon in 2022, 2023, and 2024.
Gift Goats – Holders of gift goats will be able to attend VeeCon as well as be part of a curated gifting experience. Like other digital assets, they can be bought and sold for profit.
Access Tokens – Access Tokens allow the holder to attend VeeCon as well as have some one-to-one access with GaryVee. While the majority of these tokens will offer digital access (through Facetime), others will allow the holder to meet Gary and enjoy an experience with him (such as working out or going to garage sales). Keynote Koalas give the holder unlimited access to Gary's keynote speeches around the world.
All benefits (other than the ability to trade on the marketplace) will expire on May 4, 2024.
How to Buy a VeeFriends NFT
You can find the quick steps of how to buy your first VeeFriends asset below. If you are a complete beginner we would recommend reading our How to Buy NFTs article.
Create a MetaMask wallet
Creating a MetaMask account is the first step when purchasing NFT collectibles. MetaMask is a Google Chrome plugin that will generate a unique wallet address on the Ethereum blockchain for you to use in transactions. You can use this crypto wallet on either your browser or your mobile device.
To register for a MetaMask account, follow these steps:
Step 1: On the MetaMask website, click the "Download Now" button and follow the on-screen instructions. Select your preferred version based on your device or browser from the menu.
Step 2: After the extension has finished installing, open your browser and click the MetaMask icon in the upper right corner. Select "Get Started" from the drop-down menu.
Step 3: To create a unique wallet address, go to the "Create a Wallet" option. The extension will also generate a seed phrase that is specific to your account. Keep it handy for future reference. In the future, you'll need to use this phrase in order to re-access your account.
Step 4: Create a secure password for your MetaMask wallet using numbers, letters, and characters. Make sure it's something no one can figure out.
Step 5: Click the words in order to finalize your account.
Set up an OpenSea Account
You'll need to create an OpenSea account after you've finished setting up your MetaMask profile. OpenSea is the first and biggest NFT marketplace. It was established in 2017 by two friends passionate about the space. They created the platform after spending a lot of time with other enthusiasts in public Discord servers, and it has withstood the test of time.
Using OpenSea, you may keep track of and buy trending VeeFriends on the secondary market. The site makes it simple for you to find and follow your favorite VeeFriends and other collections (such as BAYC and CryptoPunks).
Connect Your MetaMask to OpenSea
To join OpenSea, all you need is a MetaMask account. Complete the following:
Step 1: From the OpenSea website, click the "Account" icon in the top-right corner of the screen. Choose "My Profile" from the drop-down menu that appears.
Step 2: Click the "Sign In" button on the following page to launch the MetaMask extension.
Step 3: Click the check next to the account you wish to use; then click the "Next" button.
Step 4: To finish linking your MetaMask to OpenSea, click the "Connect" button on the next screen.
Buy Ethereum on an exchange
In order to buy a VeeFriends NFT, you'll need to have enough ether (ETH) on hand to purchase the NFT and pay any gas fees. To do so, pick a reputable exchange in your region, then follow these steps:
Step 1: Fill out the form with the information requested by the exchange (this will usually include your name, email address, and a secure password).
Step 2: Use the verification process to secure your account. Most exchanges ask you to submit an image of your ID or passport as proof of identity. This may take a few days for your account to be manually validated.
Step 3: When your account is approved, you'll be able to link it to a bank account or credit card so that you may make transactions on the exchange.
Step 4: Make a list of the costs you'll incur. You'll need to purchase enough cryptocurrency to purchase your NFTs as well as pay for the gas used to process the transactions.
Transfer ETH to your MetaMask wallet
When your ETH transaction has gone through, you'll need to move your cryptocurrency from your MetaMask account to your unique wallet address. Remember that whenever you interact with the Ethereum blockchain, you must pay gas expenses, so be sure you have enough by checking etherscan.io for an estimate.
Find the VeeFriends Collection on OpenSea
When your ETH has arrived, return to OpenSea to look for a VeeFriends NFT that is available for sale. You may either use the search bar or the left-hand filtering options to locate it.
Before you buy anything, double-check that you're in the proper category on OpenSea. Many scammers will create things that appear similar to a collection in order to defraud you of your money. Always look for the blue "verified" symbol next to a collection's name to verify its legitimacy.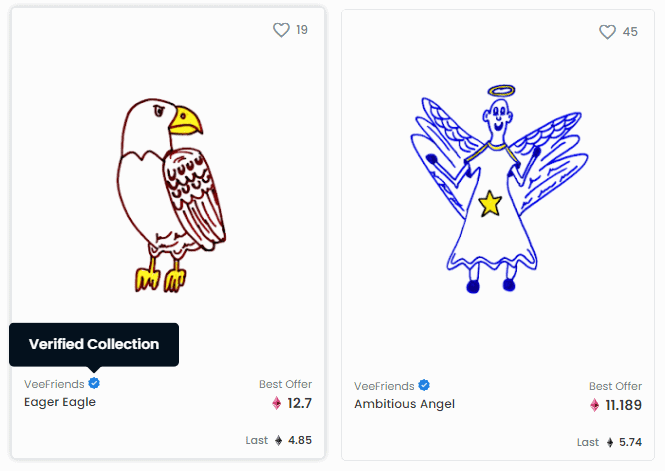 When you enter the VeeFriends category, you'll be able to sort by different characteristics of each friend to find something that piques your interest. Research which rarities are valued the most.
Buy a VeeFriends NFT
Once you've identified a VeeFriend that you'd want to buy, you can bid on it or hit the "buy now" button. You won't always be able to locate popular NFTs for sale, but you may favorite the ones you like and check back on them frequently.
Approve transaction on MetaMask
After you've purchased a VeeFriends NFT, you'll need to finalize the entire transaction in your MetaMask wallet. You will receive the NFT after you have completed the payment.
To keep your digital assets safe, store them on a hard wallet. While MetaMask provides security features, you may still lose your digital assets if your browser or computer were to be tampered with. A hard wallet will offer you an additional layer of protection, allowing you to sleep well at night.
How Much Does a VeeFriends NFT Cost?
The floor price of a VeeFriends NFT is approximately $50,000. The price of assets from this NFT project will vary depending on their utility (some give more benefits to the holder than others). While all token holders will be able to attend "VeeCon" in 2022, 2023, and 2024, there are three different categories: Access, Admission, and Gift.
How were VeeFriends Created?
The artwork on VeeFriends NFTs was drawn by the influencer Gary Vaynerchuk (aka GaryVee). In all, there are 268 drawn images that have been printed on NFTs that serve a variety of purposes. All VeeFriends characters are the intellectual property of veefriends.com.
What are VeeFriends Used For?
VeeFriends NFTs can be bought and sold in NFT marketplaces for profit, but they also have additional utility. Access tokens (300 total) give holders an opportunity to do something unique with Gary Vaynerchuk. Gift Goat tokens (555 total) will be able to receive a gift from the VeeFriends website team and Gary. Admission tokens (9,400 total) allow the holders to attend VeeCon and range in rarity.
While holders also get access to the VeeFriends Discord, this hangout is not exclusive to them. In fact, there are 150k users who check in to exchange ideas and resources based on the GaryVee community.
Can I Make My Own VeeFriends NFT?
You cannot make your own VeeFriends NFT. All of the non-fungible tokens in this collection are tracked by smart contracts on the Ethereum blockchain. They are tracked by VaynerMedia so that authentic VeeFriends holders will be able to attend the SuperConference in 2022, 2023, and 2024.
Why are VeeFriends NFTs So Valuable?
The non-fungible tokens are rare and related to a popular social media influencer. They also come with utility in that they operate as tickets to a SuperConference in New York as well as additional benefits that can help the holder extend their professional network. A few will allow special entrepreneurship with GaryVee himself.