Mutant Ape Yacht Club – What are they?
The Mutant Ape Yacht Club is a collection of 20,000 NFTs that are based on the popularity of the Bored Ape Yacht Club that was originally released in April 2021. In August of the same year, Yuga Labs (the creator) made an airdrop of mutant serums for all BAYC members. Each holder received three serums (M1, M2, and Mega Mutant). Each could be "fed" to a bored ape once, creating a unique asset that was separate from the original ape.
The M1 and M2 serums would still "look like" the original ape, but would be mutated depending on its personal attributes and rarities. The Mega Mutant serum, however, would alter the ape completely, releasing a new asset into the bored ape ecosystem.
The Mutant Apes aren't the first NFT drop to BAYC members. Yuga Labs released the Bored Ape Kennel Club in June 2021, giving each ape owner the chance to have a companion friend to their ape.
As a whole, the BAYC has taken the NFT world by storm and many celebrities have jumped onto the bandwagon. These include NBA champ Stephen Curry, NFT player Von Miller, businessman Gary Vaynerchuck, and hip-hop artist Waka Flocka Flame. Each member gets access to a private Discord server, a graffiti board called "The Bathroom," and drops such as MAYC.
How to Buy a Mutant Ape Yacht Club NFT
You can find the quick steps of how to buy your first mutant ape below. If you are a complete beginner we would recommend reading our How to Buy NFTs article.
Create a web3 wallet (MetaMask)
When purchasing NFTs, you will need to first create a MetaMask account. MetaMask is a Google Chrome extension that operates as a web3 wallet, allowing you to use safely make purchases on the Ethereum blockchain. You can use the extension on your favorite browser and even on your mobile device.
To install MetaMask to make your own crypto transactions, complete the following:
Step 1: Go to the MetaMask website and click the "Download now" button. Choose the appropriate version depending on the device or browser you are using.
Step 2: When MetaMask has finished its installation, click its icon in the top-right of your browser, then select the "Get Started" option.
Step 3: Choose "Create a Wallet" from the available options to generate a random wallet address. This address will be completely unique to your account and will allow you to transfer ether to it. Carefully write down your seed phrase for safe storage. You will need to use it in the future to verify your account. Some users choose to memorize it and others will store it in a fireproof safe.
Step 4: Create or generate a password for your wallet that others won't be able to guess.
Step 5: Click the seed words in order to confirm your seed phrase on your account. While this may seem time-consuming, the extra safety will help protect your account from hackers.
Create an account on OpenSea
After you have created your MetaMask account, you will be able to create an OpenSea account. OpenSea is a trusted marketplace where you will be able to track and purchase trending Mutant Ape Yacht Club assets that show up on the secondary market.
OpenSea makes it easy for you to search for your favorite mutant ape NFTs as well as existing bored apes, kennel club NFTs, and other collections (such as Cryptopunks). You can even "favorite" the ones you want to track in the future.
Connect Your MetaMask to OpenSea
First you need to sign up for an OpenSea account, it's simple and only requires a MetaMask account. Complete the following:
Step 1: Visit the OpenSea website and click the "Account" icon at the top-right of the browser. Choose the "My Profile" option from the drop-down menu.
Step 2: You will be redirected to the following page, where you need to click the "Sign in" button. This will activate the browser extension in the top-right corner.
Step 3: Click the checkmark by your account, then click the "Next" button.
Step 4: On the next page, click the "Connect" button to finish linking MetaMask and OpenSea.
Buy Ethereum through a crypto exchange
In order to buy MAYC digital collectibles, you will need to purchase ether (ETH) from a trusted exchange in your region. After choosing an exchange, you will need to do the following:
Step 1: Create an account with information the exchange asks for (typically your email address and a strong generated password). You may need to answer a few other queries depending on the exchange you have chosen.
Step 2: You will likely need to verify your ID as most exchanges do their best to ensure that there is no fraud on their platform. Most of the time, they will ask you to submit a picture of your ID or passport so that they can manually verify that it is you who holds the account.
Step 3: After your account has been manually verified, you will be able to link your bank account or credit card to the exchange.
Step 4: Use the exchange to buy enough cryptocurrency to afford your new NFT as well as any gas fees. You may need to do several transactions to purchase ETH until the exchange allows you to buy in larger volumes.
Send the ETH to your MetaMask wallet
After you have purchased the cryptocurrency you need for future transactions, you will need to transfer it to your MetaMask account. Do this by using the unique wallet address the extension gave you. You will need to pay gas fees to the Ethereum blockchain whenever you buy an NFT. Make sure you have enough by visiting etherscan.io for an estimate.
Find the MAYC Collection on OpenSea
After your ether has been transferred to MetaMask, visit OpenSea to find an available mutant for sale. You can either search for MAYC NFTs in the search bar or the NFT spaces' filters in the left-hand sidebar.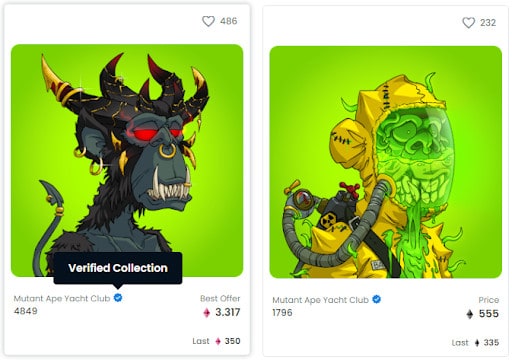 You should always ensure that you are in the correct category in the NFT marketplace before you make a purchase. Some scammers will try to trick people by creating products that look similar to popular collections. When in doubt, always look for the verified icon next to the name of the collection.
Once you have gotten to the MAYC category, look to the left-hand sidebar to add more filters to find the mutant you want (tweed suit, earring, etc).
Buy a MAYC
When you find an available mutant you want to purchase, buy it outright or bid on it. While you won't always be able to find assets from your favorite NFT collection, you can check OpenSea regularly to see when they go up for public sale.
Finalize transaction on MetaMask
After you have purchased a Mutant Ape, you will need to approve the transaction on MetaMask. Once you have paid the right amount of ETH, the asset will transfer to your account.
You should always keep your crypto and your digital NFTs in a hard wallet to keep them safe. While MetaMask does have security, if someone were to compromise your browser or computer they could hack it and steal your assets. A hard wallet will help keep your non-fungible tokens safe and within your control.
How Much Does a Mutant Ape Yacht Club NFT Cost?
The floor price of Mutant Apes is approximately $81k USD, though many rarities will go for much more on the market or in auction houses.
How were MAYC Assets Created?
Bored Ape holders were able to create their own mutants by "introducing" their Bored Ape Yacht Club NFT to a mutant serum. After that, others were able to get their own mutant apes through a public minting process. A maximum of 20,000 mutant apes will be created.
What are Mutant Ape Yacht Club Assets Used For?
Mutant Ape Yacht Club tokens are NFTs that can be bought, sold, and stored. With the popularity of the BAYC, they are likely to continually rise in value as the number of mutant apes is limited.
Can I Make My Own Mutant Ape Yacht Club NFT?
You could only "make" your own Mutant ape if you have a bored ape and a mutant serum. You cannot create your own NFT to compete with the original collection. The collection has a ceiling of 20,000 total Mutant apes.
Why are Mutant Ape Yacht Club NFTs So Valuable?
There have only been 20,000 mutant apes created and are valuable because of the popularity of the Bored Ape Yacht Club NFT project. The rarity of the non-fungible tokens as well as the popularity behind the brand raises the floor value of the whole collection.