Meebits – What are they?
Following the success of their past NFT projects, CryptoPunks and Autoglyphs, John Watkinson and Matt Hall of Larva Labs released Meebits in May 2021.
9,000 of these unique characters were initially released and given to current owners of Punks and Glyphs before others were allowed to generate their own. In all, 20,000 Meebits were generated through a Dutch auction starting at 2.5 ETH and gradually dropping as assets were purchased.
Meebits are 3D characters that can be rendered into 2D pixel art or used as avatars on several virtual world games, such as Decentraland, The Sandbox, and Cryptovoxels. Some people have created their own physical characters using a 3D printer.
Each Meebit asset was randomized from potential generated rarities by the algorithm. Some of the rarest features include:
Double Pig: 1
Dissected: 5
No Shoes: 5
Glyph Shirt: 6
Snoutz Cap: 79
3D Glasses: 120
Because of the popularity of these assets and the rise in Meebits sales, the MeebitDAO was set up by the community. The DAO will help form future uses for the product (such as unique games) and has elected advisers to keep things organized.
How to Buy a Meebit NFT
You can find the quick steps of how to buy your first Meebit below. If you are a complete beginner we would recommend reading our How to Buy NFTs article.
Create a MetaMask wallet to store NFTs
Before you can purchase Meebits of your own, you will need to get a web3 wallet using the Google Chrome extension, MetaMask. This extension allows you to safely buy and sell NFT digital assets. Not only do they have a browser extension, but it is also available for both iOS and Android devices.
To install the MetaMask extension, complete the following steps:
Step 1: Go to the MetaMask website and tap the "Download now" button. You will need to find your preferred browser version or install the mobile app.
Step 2: After you have finished installing the extension, click the "Get Started" button.
Step 3: Select "Create a Wallet" to generate a unique wallet address for your personal account. The extension will generate a random seed phrase which you will need to write down and store in a safe place. While some people memorize it, others will store it in a fire-safe box or a lockbox.
Step 4: Generate a secure password for your wallet that cannot be easily guessed.
Step 5: The extension will prompt you to enter your seed phrase by clicking on the available word in the correct order. This step will help ensure that your account stays safe from malicious hackers.
Sign up to OpenSea
In order to purchase a Meebit, you will need to sign up for an account with OpenSea. Not only was OpenSea the first NFT marketplace, but it has also grown into the largest with over 34 million pieces of digital art on its platform. The marketplace allows you to easily search for available Meebits for purchase.
Connect Your MetaMask to OpenSea
Once you have your MetaMask account, it is easy to sign up for OpenSea. All you will need to do is connect the web3 wallet by completing the following:
Step 1: Visit OpenSea and click the "Account" icon on the right-hand side of the screen. When the drop-down menu appears, choose the "My Profile" option.
Step 2: On the next page, you will see the MetaMask icon. All you need to do is click the "Sign in" button to activate the extension in the top-right of your browser.
Step 3: Make sure that you select your account, then click "Next."
Step 4: To finalize the connection between your MetaMaks account and OpenSea, you will need to click the "Connect" button on the final page.
Find an exchange to buy Ethereum
You will need to purchase ether (ETH) in order to buy a Meebit digital asset. Search through our list of recommended exchanges to find one that is available in your area, then take the necessary steps to purchase your own ETH:
Step 1: After choosing an exchange, set up an account with them by providing the information they request. Make sure to choose a randomized password to help keep your account safe.
Step 2: You will likely need to verify your account by providing an image of your personal ID or passport. Centralized exchanges ask that you take this extra step to prevent fraudulent activity. It may take a few days for your account to be manually approved.
Step 3: Link a credit card or your bank account to the exchange so that you will be able to purchase ETH with fiat currency (USD, GBP, AUD, etc).
Step 4: Purchase the ETH you'll need to purchase your Meebit as well as gas fees. Depending on the exchange, you may need to purchase ETH in smaller amounts at first until your account is more trusted.
Transfer the Ethereum to your MetaMask wallet
After you've purchased your ETH, transfer it to your MetaMask wallet using your personal wallet address. Double-check it to ensure you used the right one, then transfer the cryptocurrency to the browser-based wallet.
Again, you will need to transfer enough to purchase the Meebit 3D characters as well as the gas fees to the Ethereum blockchain. You can visit etherscan.io to determine the likely fees for the ERC-721 transaction.
Find the Meebits Collection on OpenSea
Once you have transferred your ether to your MetaMask, you will need to return to OpenSea and find the BOYC NFT you wish to purchase. You can easily find these avatars by searching for "Bored Ape Yacht Club" in the search bar or by filtering for them in "Collections" on the left-hand sidebar.
From within the BAYC category, you will be able to search based on what's currently for sale or for a specific type of avatar (trippy fur, eyepatch, etc). FIX
Buy a Meebit NFT
When your ether has transferred, revisit OpenSea to search for available Meebits. You can either search for the collection in the search bar at the top of the screen or use the sidebar filters.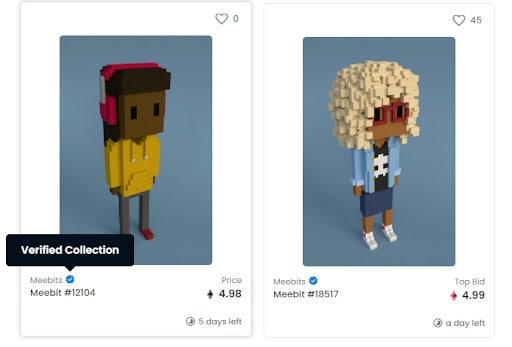 Always make sure that you are looking at a verified Meebit. Unfortunately, many people try to scam potential buyers into purchasing a product that isn't real. When looking for Meebits on OpenSea, look for the blue icon with a checkmark next to a collection's name. This indicates that the platform has verified that the product is genuine.
Once you are in the Meebit NFT space, you can use additional filters to narrow down your search further. These will allow you to search for available voxel characters with rarities that generate a lot of hype.
Approve in MetaMask wallet
After you have successfully purchased a Meebit (or won an auction) through OpenSea, you will need to approve the transaction in MetaMask. It will process when gas fees are paid.
Meebits are an extremely valuable NFT collection and if you own one, it is important to keep it as secure as possible on a hard wallet. While MetaMask takes security measures, if your computer or browser is compromised, you may lose your asset if you don't have it secure within a hard wallet.
You can easily connect your MetaMask account with a recommended hard wallet for easy transfer and safe storage.
Frequently Asked Questions
How Much Does a Meebit Cost?
At the time of this writing, the average price of a Meebit is worth approximately $20,000. One of the most expensive Meebit's to be sold was the double-faced piggy numbered #17522. This asset was sold for $2 million in July 2021.
How were Meebits Created?
Meebits is an NFT project created by Larva Labs. Each character was generated by an algorithm to create completely unique characters that differ from each other. 20,000 of the non-fungible tokens were created and distributed using the standard ERC-721 smart contract system.
What are Meebit Assets Used For?
The interesting thing about Meebits is that each comes with obj files, allowing the owner to use the assets in various ways. Not only can you transform them into a 2D character to use as a personal profile pic, but you can also import the 3D file to use in many VR games.
Can I Make My Own Meebit NFT?
Only 20,000 official Meebit NFTs were created by Larva Labs. The company will not produce more and nobody can create an official Meebit. Each is numbered and tracked through smart contracts on the Ethereum blockchain, ensuring that there are no duplications to allow each to maintain its value.
Why are Meebits So Valuable?
As there are only a limited number of Meebits, the floor price of these assets is likely to continually rise. Not only did the collection generate a lot of hype due to the versatility of the NFTs, but the creators are also known for creating the "Punks" and "Glyphs," two other valuable collections in the world of crypto-collectibles.