Hashmasks – What are they?
Set up by the Switzerland-based studio, Suum Cuique Labs. The art project was created by 70 different artists from around the world. In total, 16,384 Hashmasks non-fungible tokens are in existence.
The project was launched on 28 January 2021 and ran for 14 days. Each NFT is designed as a digital portrait that has both explicit and implicit rare characteristics that range in value. Each ERC-721 can be bought and sold on the Ethereum blockchain and can also be used as collateral through the NFTX Hashmask Index. Those who loan their NFTs can earn MASK, the platform's base asset.
Another feature that sets Hashmasks apart is that holders are able to use a name change token (NCT token) to permanently change the name of the asset. In order to do this, a user needs to send 1,830 NCTs to the Hashmask contract to burn them. For reference, each Hashmask will generate 3,660 NCTs per year. Owners have given NFTs names such as Trump, Monochromatic, FourTwenty, SushiSwap, and more.
Within a week of distribution, the popularity of the project became clear. OpenSea noted a trading volume of $8.9 million USD worth of profits off of the sales of 2,724 Hashmasks.
How to Buy a Hashmasks NFT
You can find the quick steps of how to buy your first Hashmask below. If you are a complete beginner we would recommend reading our How to Buy NFTs article.
Sign up for a MetaMask wallet
When purchasing NFT collectibles, the first thing you'll need to do is to set up a MetaMask account. MetaMask is a Google Chrome plugin that creates a unique wallet address on the Ethereum blockchain. This crypto wallet may be used on either your browser or your smartphone to make transactions in NFT marketplaces.
To get your own MetaMask account, follow these steps:
Step 1: Click the "Download Now" button on the MetaMask website, then follow the on-screen instructions. From the menu, choose a version based on your device or browser.
Step 2: After installation, click the MetaMask icon in the upper right corner. From the drop-down menu, choose "Get Started."
Step 3: To make a unique wallet address, go to the "Create a Wallet" option. The extension will also generate a seed phrase that is unique to your account. This phrase should be safely kept for future reference. From time to time, you'll need to select each word in order to re-access your account.
Step 4: Create a strong password for your MetaMask wallet using numbers, letters, and symbols. Make sure it's not guessable by anyone.
Step 5: To finish your account, select the appropriate words in sequence.
Make an OpenSea Account
After you've finished setting up your MetaMask profile, you'll need to create an OpenSea account. OpenSea.io is the first and largest non-fungible tokens marketplace, having been founded in 2017 by two men who are enthusiastic about NFT projects. They built the platform after spending time with other enthusiasts on public Discord channels, and it has stood the test of time.
On the secondary market, you may keep track of and purchase popular Hashmasks artwork using OpenSea. The site makes it simple for you to discover and follow your favorite NFT assets, as well as other collections (such as BAYC, CryptoKitties, and CryptoPunks).
Connect Your MetaMask to OpenSea
To join OpenSea, all you need is a MetaMask account. Complete the following:
Step 1: Click the "Account" icon in the top-right corner of the screen to visit the OpenSea website. Select "My Profile" from the drop-down menu that appears.
Step 2: To use MetaMask, click the "Sign In" button on the following page.
Step 3: Select the account you wish to link to OpenSea by checking the box next to it. Click "Next."
Step 4: To finish connecting your MetaMask to OpenSea, click the "Connect" button on the next screen.
Buy ETH through an exchange
You'll need enough ether (ETH) to acquire the digital art collectibles and pay any gas costs to purchase a Hashmaks NFT. Choose a trustworthy exchange in your region to invest in the cryptocurrency, then follow these step-by-step instructions:
Step 1: Fill out the form with the information requested by the exchange (usually your name, email address, and a secure password).
Step 2: Use the verification procedure to protect your account. Most exchanges require you to submit a photo of your ID or passport as proof of identification during the process. It may take a few days for your account to be manually validated.
Step 3: When your account is verified, you'll be able to link it to a bank account or credit card so that you may make purchases on the exchange.
Step 4: Make a note of all the costs involved in buying digital collectibles. You'll need enough cryptocurrency to buy your NFTs as well as the gas used in the transactions, so prepare accordingly.
Transfer the ETH to your MetaMask wallet
After your Ethereum transaction has been completed, you'll need to move your cryptocurrency from the exchange to your MetaMask account's unique wallet address. Remember that whenever you use the Ethereum blockchain, you will be paying gas costs, so make sure you have enough by checking etherscan.io for an estimate.
Find the Hashmasks Collection on OpenSea
Next, go back to OpenSea and search for a Hashmasks NFT that is for sale. You may either utilize the search bar or the left-hand filtering options to find it.
Before you buy anything, double-check that you're in the correct category on OpenSea. Many scammers will create things that appear to be part of a collection in order to defraud you of your money. Always examine a collection's name for the blue "verified" symbol, which indicates its authenticity.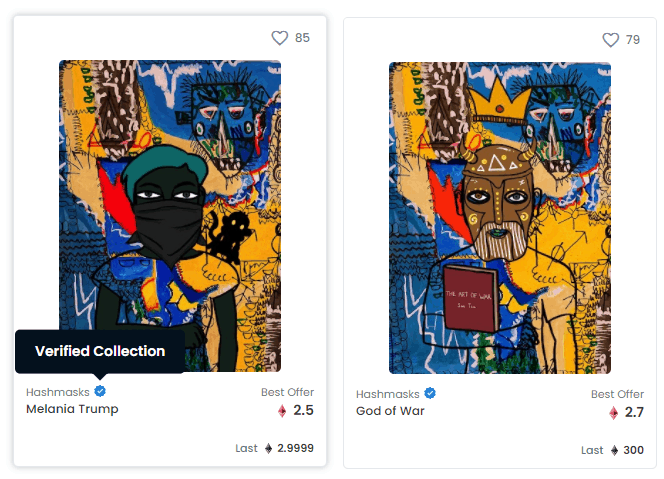 You'll be able to sort by a variety of criteria when you browse in the Hashmasks category, including interests and hobbies. Learn what rarities in the collectibles are worth the most so that you can make an informed decision on your purchase
Buy a Hashmasks NFT
After you've found a Hashmask NFT that you'd want to purchase, place a bid on it or click the "buy now" button. You won't always be able to find popular NFTs for sale, but you may favorite the ones you like and check back on them from time to time.
Approve the transaction on your MetaMask wallet
You'll need to finish the entire transaction in your MetaMask wallet after you've purchased a Hashmasks NFT. You will receive the NFT once you have submitted the payment.
Storing your digital assets on a hard wallet is critical to keeping them secure. While MetaMask offers security features, your digital property may be stolen if your browser or computer were to be hacked. A hard wallet will provide you extra protection.
Frequently Asked Questions
How Many Hashmasks Are There?
There are a total of 16,384 Hashmasks in existence. Each was minted with unique characteristics and rarities. Characteristics include skin color, eye color, backgrounds, and masks.
How were Hashmasks Created?
Hashmasks was founded by 2 passionate creators, but the artwork was designed by over 70 artists. Artists helped to provide the characteristics that would randomly be generated together to create the 16,384 NFTs in the collection's ecosystem.
What are Hashmasks Used For?
Hashmasks are digital assets that stay valuable due to their trending popularity and limited number. They can be collected or sold for profit amongst a passionate community. These NFTs also allow the owners to change their names, creating a new record on the blockchain's smart contract.
Can I Make My Own Hashmasks NFT?
There is a set number of Hashmasks that have been minted. You cannot make a Hashmask to join the club of collectors. Each ERC-721 is tracked on the Ethereum blockchain to provide authentication.
Why are Hashmasks NFTs So Valuable?
Hashmasks are valuable due to their rarity and their popularity. As many collectors would love to own one, they are currently increasing in value. The ability to name and rename artwork gives owners the ability to interact with these non-fungible tokens in a new way.