Cryptopunks – What are they?
Cryptopunks are 10,000 unique digital assets that were created in 2017 by Matt Hall and John Watkinson from Larva Labs, a New York-based studio that has created several art projects for the blockchain, 8-bit video games, Android apps, and more.
Each of the 10,000 characters is completely unique, generated from a list of physical attributes. The avatars were randomly created by an algorithm with a 24×24 pixel frame. Most are humans, but you can also find apes, aliens, and zombies. No new Cryptopunks will ever be produced.
While some attributes are split more evenly (i.e. 6,039 males vs 3,840 females), other features are rare, causing the asset to rise in value. Some of these attributes include the following:
Alien punks – 9
Ape punks – 24
Punks wearing a beanie – 44
Punks wearing a tiara – 55
Punks with buck teeth – 78
Zombie punks – 88
Every Cryptopunk can be viewed and appreciated by the general public, but each asset can only be officially owned by a single person. While the copyright, IP, and trademark of each character are still held by Larva Labs, the owner of the NFT can use the art for their own personal, non-commercial use as well as sell up to $100k personal merch based on that particular avatar.
Due to their rarity and early creation, Cryptopunks are some of the most valuable NFT assets available. In fact, many well-known investors and celebrities, such as Gary Vaynerchuk and Jay-Z, have purchased them. In fact, Cuy Sheffield, the head of crypto at VISA purchased one for the company in August 2021.
How to Buy a Cryptopunks NFT
You can find the quick steps of how to buy your first Cryptopunk below. If you are a complete beginner we would recommend reading our How to Buy NFTs article.
Create an NFT wallet using MetaMask
To buy NFT digital assets, the first thing you will need to do is create a web3 wallet using MetaMask. MetaMask is an extension on Google Chrome that allows you to easily (and safely) make crypto transactions. The extension is available on Android, iOS, and on your browser.
To install the extension, complete the following:
Step 1: Visit MetaMask and click the "Download now" button. Choose your preferred browser or install the mobile app version.
Step 2: Once installed, click on the extension and select "Get Started."
Step 3: Choose the "Create a Wallet" option to generate a new wallet address. Note that you will need to save your seed phrase in a secure place. Many people write it down and store it in a safe.
Step 4: Create a secure password for your wallet.
Step 5: Confirm your seed phrase by clicking the words in the correct order.
Sign up for an OpenSea account
Create an account with OpenSea. In order to purchase Cryptopunks, you will need to have an OpenSea account. OpenSea is the world's largest NFT marketplace and allows you to easily search all punks for sale.
Connect Your MetaMask to OpenSea
To create an OpenSea account, you will need to connect a web3 Ethereum wallet such as MetaMask. Complete the following steps:
Step 1: From the OpenSea platform, click the "Account" icon in the top-right of the screen, then select "My Profile" from the drop-down menu.
Step 2: You will be redirected to a sign-in page with a MetaMask icon. Click the "Sign in" button and a MetaMask pop-up will appear in the right of your browser.
Step 3: Select your account, then click on the "Next" button.
Step 4: Click the "Connect" button on the following page to finalize the connection between your crypto wallet and OpenSea.
Buy ETH from an exchange
If you don't already own ETH, you will need to purchase it from a trusted cryptocurrency exchange in your region. Generally speaking, this is how you will purchase ether:
Step 1: Choose and set up an account with an exchange. Typically, you will enter your email address and create a password. You may need to answer a couple of questions.
Step 2: Verify your identity by providing an ID or passport. Many centralized exchanges make sure you do this step to prevent widespread fraudulent activity.
Step 3: Link a form of payment to your exchange. Many will either allow you to transfer fiat money (USD, GBP, AUD, etc) from a bank account or use a credit card.
Step 4: Purchase the amount of ETH you need in order to make your transaction and pay gas fees.
Transfer Ethereum to your MetaMask
Once you have purchased the ether you need, you will need to transfer it to your MetaMask wallet. Make sure that you transfer enough cryptocurrency to pay for the cost of the non-fungible tokens as well as gas fees (payment to the miners who operate the Ethereum blockchain). To determine your gas fees, visit etherscan.io.
Find the Cryptopunks Collection on OpenSea
Once you have transferred your ether to your MetaMask, you will need to return to OpenSea and find the Cryptopunk you wish to purchase. You can easily find these avatars by searching for "Cryptopunks" in the search bar or by filtering for them in "Collections" on the left-hand sidebar.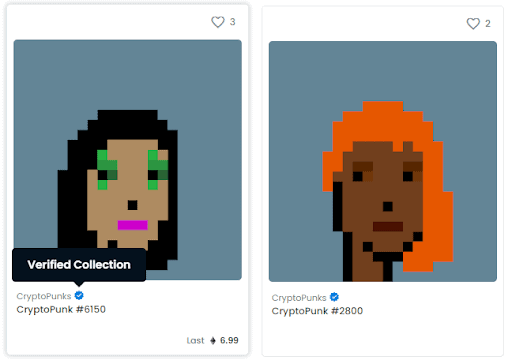 When searching for the perfect punk, make sure that it is part of the verified collection. Some scammers try to duplicate certain aspects of the project to trick unsuspecting buyers. Always look for the blue mark with the white checkmark next to the name of the collection to ensure that the product is real.
From within the Cryptopunks category, you will be able to search based on what's currently for sale or for a specific type of avatar (female punks, alien punks, etc).
Buy a Cryptopunk
When you find an available NFT that you want, buy it outright or bid for it. Cryptopunks aren't always on the NFT market, so you may need to check back often to check if they are available.
Approve the transaction on MetaMask
After you have initiated the purchase on OpenSea, you will need to approve it within MetaMask. Once gas fees are paid, your transaction will process.
At this point, it is advisable to store your non-fungible token on a hard wallet. You can easily connect one to MetaMask and it is an extra layer of security for your digital asset. If your computer or browser is compromised, a hacker may be able to access your MetaMask account.
Frequently Asked Questions
How Much Does a Cryptopunk Cost?
At the time of this writing, the lowest current price for an available punk is 99 ETH (according to the Larva Labs website). Many have been sold for millions of dollars. The most expensive Cryptopunk was $11.7 million (USD), sold in a Sotheby's auction in June 2021. A group of 9 were sold in a Christie's auction for $16.9 million USD in May 2021.
How were Cryptopunks Created?
Cryptopunks were generated by Larva Labs, a studio based in New York City. Each was randomly generated from a list of attributes, such as race, gender, whether or not they wear a beanie, etc. 9,000 were released to the public for free in 2017. The company held on to the rest.
What are Cryptopunks Used For?
Cryptopunks are rare non-fungible tokens available on the Ethereum blockchain. Inspired by the ERC-721 standard, these assets are collector's items and are highly sought-after by serious NFT investors.
Can I Make My Own Cryptopunk?
Only 10,000 official Cryptopunks are in existence and no more can be made. Each is tracked on the Ethereum blockchain and is completely unalterable. This rarity is what makes each of the assets so valuable.
Why are Cryptopunks So Valuable?
Cryptopunks are valuable because they were one of the first NFT projects. Only 10,000 were released and each one is completely unique. Only 9 alien punks were generated and, as the rarest, they usually are valued higher. Zombies and apes are also highly sought after.