Creature World – What are they?
The Creature World collection was created by artist Danny Cole. This North American artist has made a statement in the art world. He has previously been featured by Converse, performed live art and animation with the band Portugal, and was featured in many illustrious art shows in New York City.
In August 2021, Cole created 10,000 digital assets known as "Creature World" to be sold as NFTs. Each is a human-like creature with various skin colors and patterns, eye colors (including "Earth"), outfits, and other rare characteristics.
While many collectors get hyped due to the design of an NFT or the community surrounding it, Creature World collectors are more invested in the artist behind them. This has created an interesting dynamic as the average price of the assets has continually risen as more people find out about Danny Cole.
The team behind the project has stated that they have unique ideas for the project in the future, but haven't released a roadmap. Their plan is to surprise their collectors at each future release date.
At the time of this writing, the floor price for Creature World NFTs is just under 3 ETH and is expected to rise as new product information is released about the project as a whole.
How to Buy a Creature World NFT
You can find the quick steps of how to buy your first Creature World NFT below. If you are a complete beginner we would recommend reading our How to Buy NFTs article.
Create a web3 wallet on MetaMask
The first step in purchasing NFT collectibles is to create a MetaMask account. This Google Chrome plugin creates a unique wallet address on the Ethereum blockchain. You may use this crypto wallet to trade in NFT markets either with your browser or your smartphone.
To get a MetaMask account, follow these steps:
Step 1: On the MetaMask website, click the "Download Now" link, then follow the on-screen instructions. Choose a version based on your device or browser from the menu.
Step 2: Open the MetaMask app by clicking the icon in the upper right corner of your browser. Select "Get Started" from the drop-down menu.
Step 3: Go to the "Create a Wallet" option in your wallet's settings to make a unique wallet address. The extension will also generate a seed phrase that is specific to your account. This phrase should be kept for future use. You'll need to click each word in order to access your account from time to time.
Step 4: Using numbers, letters, and symbols, create a secure MetaMask wallet password. Make sure it's not easy to guess by anyone.
Step 5: To complete your account, choose the correct words in order.
Sign up for an account on OpenSea
After you've finished creating your MetaMask profile, you'll need to sign up for an OpenSea account. OpenSea is the first and largest non-fungible tokens marketplace, having been launched in 2017 by two men who are enthusiastic about NFT projects. After spending time on public Discord channels with other enthusiasts, they developed the platform and nurtured it into what it is today.
On the secondary market, you may keep track of and purchase Creature World assets using OpenSea. The site makes it simple for you to locate and follow your favorite unique creatures as well as other collections (such as BAYC, CryptoKitties, and CryptoPunks).
Connect Your MetaMask to OpenSea
To become a member of OpenSea, you must already have a MetaMask account. The following steps will teach you how to connect them:
Step 1: Visit the OpenSea website and click the "Account" icon in the upper right corner of your screen. Choose "My Profile" from the drop-down menu.
Step 2: Click the "Sign In" button on this page to use MetaMask.
Step 3: Choose the account to link to OpenSea by checking the box next to it. Click the "Next" button.
Step 4: To finish linking your MetaMask to OpenSea, click the "Connect" button on the following screen.
Buy ETH on a crypto exchange
To acquire Creature World collectibles, you'll need enough ether (ETH) to cover the transaction and the gas fees. To invest in the cryptocurrency, select a reputable exchange in your region, then follow these instructions:
Step 1: Fill out the form with the information required by the exchange (usually your name, email address, phone number, and a secure password). The requested information will vary.
Step 2: The majority of exchanges demand that you produce a photo ID or passport as proof of identification throughout the procedure. It might take a few days for your account to be manually validated, but this verification procedure will safeguard your account.
Step 3: When your account has been approved, you will be able to connect it to a bank account or credit card so you can make purchases on the exchange.
Step 4: Keep track of all of the expenses involved in purchasing digital items. You'll need a sufficient quantity of cryptocurrency to buy your NFTs as well as the gas used in transactions, so prepare ahead of time.
Put the ETH on your MetaMask wallet
You'll need to transfer your cryptocurrency from the exchange to your MetaMask account's unique wallet address after your Ethereum transaction is complete. Because you will be spending gas when using the Ethereum blockchain, check etherscan.io for a cost estimate to ensure you transfer enough.
Find the Creature World Collection on OpenSea
Finally, go to OpenSea and look for a Creature World NFT that is for sale. You may either use the search bar or the left-hand filtering options to locate it.
Before you make a purchase, double-check that you're in the proper category on OpenSea. Many scammers create items that appear to be part of a collection in order to steal your money. Always check for the blue "verified" symbol next to a collection's name, which indicates its legitimacy.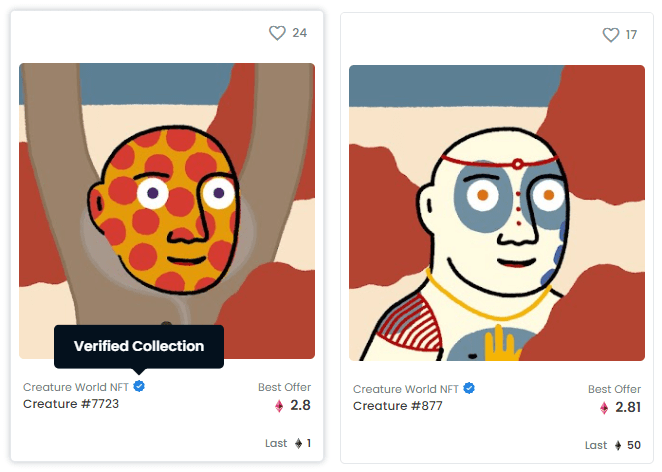 When you look in the Creature World category, you'll be able to sort by a number of criteria, including creature decoration, Polkadot skin, and thermal mouth. Learn what rareties in collectibles are worth the most so that you can make an educated decision.
Buy a Creature World NFT
Place a bid on it or click the "buy now" button once you've identified a Creature World NFT that you want to purchase. Popular NFTs won't always be for sale, but you may favorite the ones you like and check their status from time to time.
Finish Transaction on your MetaMask wallet
After you've purchased your Creature World NFT, you'll need to finish the transaction in your MetaMask wallet. The NFT will be delivered to you once you have submitted the payment.
It is critical to store your digital assets on a hard wallet. Even if you use MetaMask to secure your account, your digital property may be stolen if your browser or computer were to be hacked. Extra protection will be provided by a physical wallet.
Frequently Asked Questions
How Many Creature World NFTs Are There?
There are 10,000 Creature World NFTs on the market. The collection is closed and no new non-fungible tokens will be added to it in the future.
How were Creature World Assets Created?
The Creature World NFTs were designed and created by 21-year old artist Danny Cole. 10,000 Creatures were randomly generated from pre-defined characteristics before their release date of 26 August 2021.
What are Creature World NFTs Used For?
Creature World NFTs are digital assets that can be bought and sold in NFT marketplaces. Each piece of art is unique and there is a limited number in the collection. Each item is tracked via smart contract on the Ethereum blockchain, ensuring authenticity. The artist behind the project has promised more utility in the future but hasn't stated what holders should expect.
Can I Make My Own Creature World NFT?
Only a certain amount of Creature World NFTs have been produced by the artist. You are not permitted to join the club of collectors by making your own. Each ERC-721 is recorded on the Ethereum blockchain so that the authenticity of the piece can be verified.
Why are Creature World NFTs So Valuable?
Creature World NFTs are highly valued because of their scarcity and popularity. Many collectors desire them, driving up their price. Unlike many other collections, people have Creature World assets on their wishlist due to the artist behind them instead of the design or community (though those things are important as well).