Cool Cats – What are they?
Cool Cats are a collection of 10,000 non-fungible tokens that were randomly generated from over 300,000 possible options. While the avatars in the first generation all have blue cat skin, there are a number of variables that differentiate each of them, including their hats, outfits, and faces. Each has also been given a value between 3 and 10 determined by their traits. These will be used later for breeding and contests. Some variables include:
Upsidedown – 1
Alien (hat) – 1
Luck (hat) – 1
Helm bronze – 66
Ninja black (shirt) – 75
Beanie blue – 99
The project was created by Tom Williamson and Robe Mehew (who had previously failed a project called Faticorns where they created 16-bit pixel fat unicorns) as well as Evan Luza and Colin Egan. Fortunately, the second project was a success, completely selling out in about 8 hours.
Cool Cats launched on July 1 with an original mining price of 0.020 ETH, generating the equivalent of about $400,000 USD. The company plans to give back 20% of ETH generated through projects to cat holders through contests, raffles, giveaways, and more. Holders are also a part of a DAO, allowing them to help direct where the project will go as a whole.
While the blue skin color will be exclusive to the first generation of cats, the company plans to use the cats in a "breeding system" for the second generation.
How to Buy a Cool Cats NFT
You can find the quick steps of how to buy your first Cool Cat below. If you are a complete beginner we would recommend reading our How to Buy NFTs article.
Make a web3 wallet using MetaMask
The first thing to do when buying NFT collectibles is to create a MetaMask account. MetaMask is a Google Chrome extension that will give you a unique wallet address with which you can safely make transactions on the Ethereum blockchain. MetaMask is available for a few browsers and even on your mobile device.
To create a MetaMask account, do the following:
Step 1: Visit the MetaMask website. Click the "Download now" button underneath the logo, then select the version you wish depending on your device or browser.
Step 2: After the extension has finished installing, find and click the MetaMask icon in the top-right of your browser. Click the "Get Started" option.
Step 3: From the available options, pick "Create a Wallet" to generate a unique wallet address. The extension will also give you a seed phrase that will be unique to your account. Write it down and store it in a safe place. You will need to refer back to this phrase in the future.
Step 4: Generate a unique password with numbers, letters, and characters for your MetaMask wallet. Make sure that it is something that others won't be able to guess.
Step 5: Finalize your account by clicking the seed words in order.
Sign up on the OpenSea NFT Marketplace
When you have finished creating your MetaMask account, you will need to create an OpenSea account. OpenSea is the first and largest NFT place. It was founded in 2017 by two friends who were passionate about the industry. After learning a considerable amount in public Discord servers, they launched the platform which has been a trusted service ever since.
With OpenSea, you will be able to track and purchase trading Cool Cats that show up on the secondary market. The platform makes it easy for you to research your favorite NFTs and other collections (such as BAYC and CryptoPunks).
Connect Your MetaMask to OpenSea
To sign up for OpenSea, all you need is a MetaMask account. Complete the following:
Step 1: From the OpenSea website, click the "Account" icon that is found in the top-right hand corner of the screen. From the available options, choose "My Profile" from the drop-down menu.
Step 2: On the next page, click the "Sign In" button to activate the MetaMask extension.
Step 3: Make sure that there is a check beside the account you wish to use, then click the "Next" button.
Step 4: Click "Connect" on the next page to finish connecting your MetaMask to OpenSea.
Buy Ethereum on a crypto exchange
In order to purchase Cool Cats, you will need to buy enough Ethereum (ETH) to purchase the NFT and pay any gas fees. To do this, you will need to choose a trusted exchange in your region, you can view our recommended exchanges, then do the following:
Step 1: Input the information the exchange asked for (this will typically include your name, email address, and a strong password).
Step 2: Verify your account by submitting an image of your ID or your passport. Most exchanges require this to ensure there is no fraud on your end. It may take a few days for your account to be manually verified.
Step 3: When your account is verified, link your bank account or credit card to it so that you can make transactions on the exchange.
Step 4: Buy enough cryptocurrency to purchase your NFT and gas fees.
Move the ETH to your MetaMask
When your ETH transaction has been processed, you will need to transfer your cryptocurrency to your MetaMask account using your unique wallet address. Bear in mind that you will need to pay gas fees to the Ethereum blockchain whenever you interact with it, so ensure that you have enough by visiting etherscan.io for an estimate.
Find the Cool Cats Collection on OpenSea
When your ETH has transferred, return to OpenSea to look for an available Cool Cats NFT. You can either search for it through the search bar or use the filtering system on the left side of the screen.
Always make sure that you are in the right category on OpenSea before you make a purchase. Many scammers will create items that look similar to a collection in order to scam you out of your money. Always look for the blue "verified" icon next to a collection's name to know that it is legit.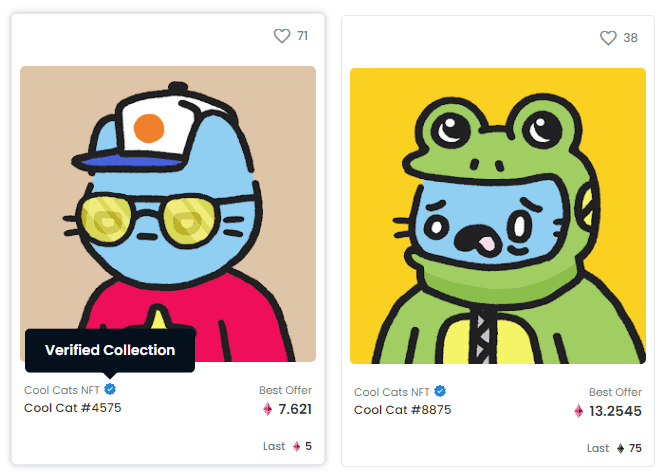 When you arrive in the Cool Cats category, you will be able to filter by the individual traits of each cat to find something that will interest you.
Buy a Cool Cat NFT
When you find a Cool Cat you want to purchase, you can either bid on it or click the "buy now" button. While you won't always be able to find trending NFTs that are available for sale, you can favorite the ones your love and check back on them regularly.
Finalize Transaction
When you have successfully purchased a Cool Cats NFT, you will need to approve the full transaction on your MetaMask wallet. After you have paid in full, you will receive the NFT.
Always store your digital assets on a hard wallet to keep them safe. While MetaMask has security measures, you may still potentially lose your assets if your browser or computer became compromised. A hard wallet will give you an extra layer of security so that you don't have to worry.
Frequently Asked Questions 
How Much Does a Cool Cats NFT Cost?
The floor price of a Cool Cats NFT is around 10 ETH. At the time of this writing, the most expensive Cool Cat was #3330 which sold for 110 ETH. This NFT has a robot face, hat, shirt, and is one of the 9 "hidden" cats.
How were Cool Cats Created?
The Cool Cats collection was created through random generation from over 300,000 possible outcomes. Each is unique and some will have traits that are rarer than others, making them more valuable to the community.
What are Cool Cats Used For?
Cool Cats are an NFT project with a limited amount of assets. They are typically used for buying and selling much like trading cards and many people use them as their profile picture on their social media accounts. That being said, there are some additional benefits to owning a Cool Cats NFT. The company that created them will often do giveaways to pass on some of the revenue they have earned through the project. The Cool Cats will also have some functionality in that they will be used (in some way) as a breeding tool for the second generation of the project.
Can I Make My Own Cool Cats NFT?
You cannot make your own Cool Cats NFT. There is a cap of 10,000 first-generation cats and no more will be made. Those who own Cool Cats may be able to help generate second-generation cats through "breeding," but you cannot make a Cool Cats to join in on the project as it is closed and tracked on the Ethereum blockchain.
Why are Cool Cats NFTs So Valuable?
Cool Cat NFTs are valuable because they generated a lot of hype about the project. There are only 10,000 cats in existence and all Cool Cat holders are a part of the DAO and can vote on the future of the project. When purchasing an existing cat to become a part of the project, it is important to do your own research to understand the overall market value of its place within the project.