How to Buy Bored Ape Yacht Club (BAYC)
How to Buy Bored Ape Yacht Club
Last Updated October 26, 2021
Bored Ape Yacht Club – What are they?
The Bored Ape Yacht Club is one of a few NFT projects created by the Virginia-based company, Yuga Labs. The project was released in April 2021 and each token was worth .08 (which was the equivalent of about $185 USD at the time). In just a few short months, the apes have grown exponentially in value to where one sold in auction for $2.25 million.
The project was created by four friends at Yuga Labs who stated they wanted to test their skills and build something. Not only did they succeed in creating a product that everyone wants, but they have generated additional hype by dropping additional NFTs to BAYC holders.
The Bored Ape Kennel Club was released in June 2021. The premise of the BAKC was that every ape needed a companion and each member of the BAYC received a free Kennel club NFT. The Mutant Ape Yacht Club was released on August 24, 2021, with the same premise. Each BAYC holder received mutant serums that allowed them to "mutate" their ape, creating unique NFTs without altering the original.
Not only have club members received free NFT drops, but they also have access to a private Discord server and "The Bathroom" (a graffiti board that can only be accessed by those who hold one of the assets and are logged in with MetaMask).
Ape owners also seem to hang out together on social media, using their NFTs as their profile pictures or chatting with one another. Several celebrities have joined the club including hip-hop artist Waka Flocka Flame, businessman Gary Vaynerchuk, NBA champion Stephen Curry, influencer Logan Paul, and NFL player Von Miller.
How to Buy a Bored Ape Yacht Club NFT
You can find the quick steps of how to buy your first BAYC below. If you are a complete beginner we would recommend reading our How to Buy NFTs article.
Create a web3 wallet using MetaMask
The first thing you will need to do when buying NFT digital assets is to create a web3 wallet using MetaMask, a Google Chrome extension. MetaMask allows you to easily (and safely) make crypto transactions. The extension is available on Android, iOS, and on your browser.
To install MetaMask, complete the following:
Step 1: Visit MetaMask and find the "Download now" button. The extension is available for several browsers and is also available as a mobile app. Choose the appropriate version for your device.
Step 2: After MetaMask has finished installing, click the extension icon, then select "Get Started."
Step 3: From the available options, click "Create a Wallet." MetaMask will then generate a new wallet address that will be unique to your account. Make sure that you carefully write down your seed phrase and store it in a secure place. While some people memorize it, others will store it in a safe or a lockbox.
Step 4: Generate a secure password for your wallet that can't be easily guessed.
Step 5: At this point, you will need to click words to confirm your seed phrase. This extra step makes it more unlikely that your account cannot be hacked.
Create an OpenSea Account
Create an account with OpenSea to potentially purchase a Bored Ape Yacht Club NFT. As the first and largest NFT marketplace, OpenSea makes it easy to search for any available apes on the market through their category system. Not only can you search for BAYC, you can also search for Kennel Club and Mutants.
Connect Your MetaMask to OpenSea
It is easy to sign up for OpenSea. All you need to do is connect your MetaMask account to the platform using the following steps:
Step 1: The first thing you need to do is go to the OpenSea website. Then, click the "Account" icon at the top-right of the browsers, choosing "My Profile" from the drop-down menu.
Step 2: On the next page, click the "Sign in" button underneath the MetaMask icon to activate the browser extension in the top-right of your screen.
Step 3: Make sure that there is a checkmark by your account before clicking the "Next" button.
Step 4: On the following page, you will need to click the "Connect" button to finalize the connection.
Buy ETH
In order to buy BAYC assets, you will need to invest in the cryptocurrency, ether (ETH). To do this, you will need to purchase it from a trusted exchange that is available in your region. After finding the best exchange for your needs, you will need to complete the following steps:
Step 1: Create an account with the exchange by inputting your email address and generating a password that can't be easily guessed. Depending on the exchange, you may need to answer a few other questions.
Step 2: Many trusted exchanges do their due diligence to protect their clientele by making you verify your identity. You will typically need to take a picture of your ID or passport and submit it to the company in order to verify your account.
Step 3: Once your account has been verified, you will need to link either a credit card or a bank account to your exchange so that you can purchase ETH.
Step 4: Purchase enough ETH to buy your BAYC NFT and any gas fees that you'll need to make to the Ethereum blockchain. Note that you may need to do several transactions at first before the exchange allows you to trade in larger volumes.
Transfer ETH to your MetaMask
When you have the ETH you need to complete your future purchases and gas fees, transfer it to your MetaMask account using your unique wallet address. You can visit etherscan.io to determine your estimated gas fees (how Ethereum blockchain minors are paid).
Find the BAYC Collection on OpenSea
After your MetaMask account has received your ether, return to OpenSea to find an available BOYC NFT for purchase. To do this, either search for the avatars in the search bar or use OpenSea's filters in the left-hand sidebar.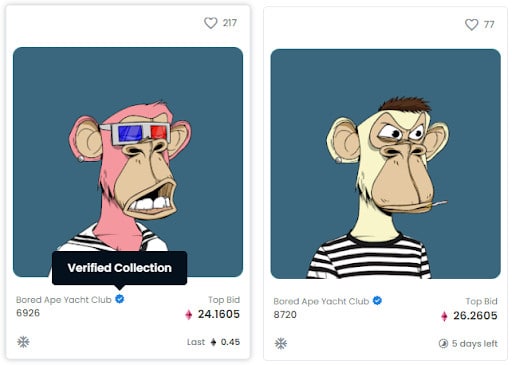 Make sure that you are on the verified category with verified NFTs before you make a purchase. If you aren't sure, look for the verified badge (a blue icon with a checkmark) next to the collection's name.
Once you have gotten to the BAYC category, you can use further filters to look for specific types of apes (trippy fur, eyepatch, etc).
Buy a BAYC NFT
Bid or purchase the available BAYC NFT that wish to buy. Understand that you may not always be able to find digital assets from this NFT collection. They are quite rare and their owners do tend to like to hold on to them. That being said, check back often to see if any are available.
Approve on MetaMask
When you have successfully made a purchase through OpenSea, you will need to approve the transaction in MetaMask. Pay for the NFT and the gas fees in order to process the transaction.
Now that you have such a valuable asset, you will want to store your non-fungible token on a hard wallet instead of relying on your browser-based wallet. While MetaMask does take steps to try to stay secure, if your computer or browser is compromised, someone else may be able to access your wallet. A hard wallet will keep your BOYC asset safe.
Frequently Asked Questions
How Much Does a Bored Ape Yacht Club NFT Cost?
In August 2021, the highest sale for a single ape occurred when Bored Ape #7090 sold for 600 ETH ($2.25 million USD at the time) in a Sotheby's auction. On September 9, 2021, 101 Bored Ape Yacht Club NFTs were sold by the same New York-based auction house for a total of $24.4 million.
How were BAYC Assets Created?
Bored Ape Yacht Club NFTs were created in April 2021. All 10,000 assets were randomly generated from more than 170 unique traits. These traits include colored teeth, hats, eye patches, and other accessories. They even come with unique fur colors (blue, brown, gray, trippy, solid gold, etc).
What are Bored Ape Yacht Club Assets Used For?
Bored Ape Yacht Club assets are rare NFTs that are available on the Ethereum blockchain. They are Inspired by the ERC-721 standard, making them collector's items and are highly sought-after by serious NFT investors.
Can I Make My Own Bored Ape Yacht Club NFT?
Only 10,000 official BAYC assets are in existence and no more can be made. Each is tracked on the Ethereum blockchain and is completely unalterable. This rarity is what makes each ape so valuable.
Why are Bored Ape Yacht Club NFTs So Valuable?
Much like Cryptopunks, Bored Ape Yacht Club NFTs are valuable because of their rarity and exclusivity. Only 10,000 are available and each acts as a golden ticket to additional club perks. The exclusive club feeling definitely drives the NFT sales of these digital assets.