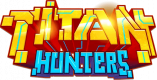 TITAN HUNTERS is inspired by the fun gameplay of Diablo, Voxel's signature look and the feel of Minecraft. It is a creative and unique project that combines NFT (Earning Nature) and the best gaming genre of MMORPG (Fun Nature).
You can follow these quick steps to get started with Titan Hunters!
If you enjoy Titan Hunters then we highly recommend checking out these other similar games.
Titan Hunters
Twitter Updates