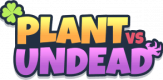 Plant vs. Undead is a blockchain game similar to a multiplayer tower defense game. The goal is to protect plants and the mother tree from the undead — an army of zombies that arrive when a meteorite strikes the planet.
More about
Plant Vs Undead
You can follow these quick steps to get started with Plant Vs Undead!
If you enjoy Plant Vs Undead then we highly recommend checking out these other similar games.
Plant Vs Undead
Twitter Updates