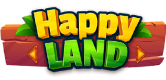 Happyland is inspired by the Texas countryside. USA. In Happyland, players have the opportunity to become a farm owner, as farm owner players are able to participate in soil tillage, raise plants/cattle and decorate their farm. Through that, each player helps build a combined metaverse with many various farms and each with their own style.
You can follow these quick steps to get started with Happyland!
If you enjoy Happyland then we highly recommend checking out these other similar games.
Happyland
Twitter Updates