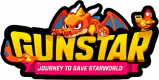 Gunstar Metaverse is a massively multiplayer online role-playing (RPG) and turn-based strategy NFT Game that gives you the real value of enjoyment and excitement in gaming and the real value provided through the blockchain platform. Gunstar is a 2D game that bears the properties of a turn-based and ballistics simulation game.
More about
Gunstar Metaverse





FPS – Turn Based Game – PVE
You can follow these quick steps to get started with Gunstar Metaverse!
If you enjoy Gunstar Metaverse then we highly recommend checking out these other similar games.
Gunstar Metaverse
Twitter Updates