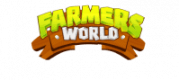 Farmers World is the first farming game to function on the NFTs platform. Pick for yourself suitable tools, exploit various resources, buy land to build enormous farms, and enjoy the fascinating experiences of a farmer working in Farmers World's Ecosystem.
Join our community to stay in the loop and earn more in play to earn gaming 🙂
You can follow these quick steps to get started with Farmers World!
If you enjoy Farmers World then we highly recommend checking out these other similar games.
Farmers World
Twitter Updates