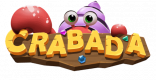 Crabada are powerful warriors from a past era. Each with unique strengths and abilities which are inherited through breeding. Rediscover the prosperous ancient Crabada Kingdom once ruled by Crustaco, King of the Crabada. Mine. Loot. Breed. Expand your forces. Earn CRA tokens by playing and use them to determine the future of the Kingdom!





Idle – Looting – Mining – Battle Combat
You can follow these quick steps to get started with Crabada!