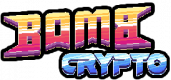 The Bomb Crypto game is in the Play-To-Earn genre, where players manage a group of bomb heroes of cyborgs programmed to search for BCOIN and fight monsters. Each bomb hero has different stats, if you're lucky you can find bomb heroes with good stats to sell or upgrade them to increase performance and combat ability.
You can follow these quick steps to get started with Bomb Crypto!
If you enjoy Bomb Crypto then we highly recommend checking out these other similar games.
Bomb Crypto
Twitter Updates